Welcome to:
THE LAST DAYS CALENDAR
Web Site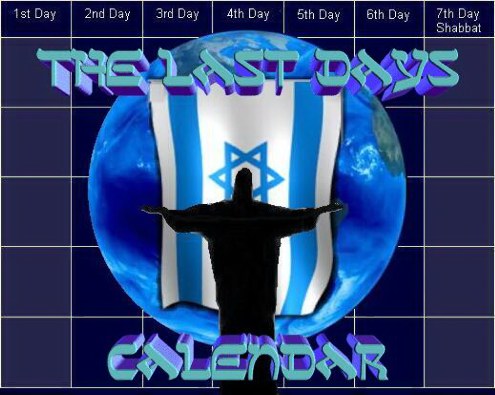 Fresh insight into Bible Prophecy,
Concerning the Last Days
and
The Rapture
The Last Days Calendar and The Revelation of Jesus Christ both truly interpret biblical prophecy concerning the last days within its proper context of Jewish culture and the Hebrew calendar. Studying Scripture in light of the historical setting and culture in which it was first proclaimed reveals fresh insight into events of the last days, the Book of Revelation, the timing of the Rapture, the identity of the Two Witnesses and the nature of the Millennium.
Bible prophecy concerning events of the last days, including the rapture, are foreshadowed in the Festivals of the LORD.
The Festivals of the LORD are the ordained "Appointed Times" of God's ceremonial calendar for Israel. These seasonal feasts are prophetic pictures of the Messiah.
"No one knows about that day or hour," but we have been given the signs of that season.

"The Festivals of the LORD"as types of
Messiah
Therefore do not let anyone judge you
by what you eat or drink,
or with regard to a religious festival,
a New Moon celebration or a Sabbath day.
These are a shadow of the things that were to come;
the reality, however, is found in Christ.
Colossians 2:16-17
Click on "The Festivals of the LORD" below for an overview.
Then follow the links at the bottom of each
page to navigate through -
Israel's seven Appointed Feasts.

Are willing to have what you have
been taught concerning the
"Second Coming"
challenged in the light
of Scripture?
Now the Bereans were of more noble character than
the Thessalonians, for they received the message with
great eagerness and examined the Scriptures every day
to see if what Paul said was true. Acts 17:11

If so, feel free to both enjoy the other Bible studies as well as to contact us with Biblically based comments or criticisms

concerning Bible prophecy, End Times or the Rapture.