Genesis 26 - Isaac Settles in Gerar & He Deceives Abimelech!

Isaac travels to Gerar to escape a famine as did his father Abraham. Isaac also repeats Abraham's deception by claiming that his wife was his sister.
Now there was a famine in the land, besides the previous famine that had occurred in the days of Abraham. So Isaac went to Gerar, to Abimelech king of the Philistines. The Lord appeared to him and said, "Do not go down to Egypt; stay in the land of which I shall tell you." Genesis 26:1-2
Because of the famine in Canaan, Isaac starts to journey south towards Egypt and stops over in Gerar in the territory of the Philistines.
The LORD appeared to Isaac as He did to his father Abraham. This appearance was not in a dream or a vision. This was a visible manifestation of God that was tangible to his human senses. Most probably this appearance was a Christophany – a preincarnate appearance of Christ. The LORD appeared to Abraham on three different occasions:
1) On his arrival in the land, wherein God promised the land to Abraham and his descendants (Genesis 12:7-9).
2) When God reaffirmed his promises of land and numerous descendants to Abraham when he was ninety-nine years old (Genesis 17:1).
3) And on the Plains of Mamre before He sent his two angels on their way to destroy Sodom (Genesis18:1).
Now there was a famine in the land, and Abram went down to Egypt to live there for a while because the famine was severe. Genesis 12:10
Almost as quickly as Abram entered into the land of Canaan, he leaves. Abram trusted God for over 1,000 mile arduous trek from Ur to Canaan. He left behind his home and family, and by faith, traveled to a country where he had never been. He did so because he believed that God was going to make him into a great nation. But when Abram arrived in Canaan and a famine hit the land he does not think he will survive for more than a few weeks. He goes to Egypt and tries to solve his problems himself. The man who trusted God for the ultimate, his future and for the future of his descendants, was unwilling to trust God for the immediate – food for himself and his family. Abram trusted God for huge promises to extend through generations, but didn't have faith when it came to immediate needs. Yet faith means trusting God for both His eternal promises as well as for our daily bread. This is where we often fail. We trust God with our eternal salvation, and then we worry about the daily struggles that we are going through and the decisions we have to make.
The LORD commands Isaac not to go down to Egypt to escape the famine as did Abraham his father. Instead, the LORD exhorts Isaac to remain in the territory of the Philistines for a while and not leave Canaan. By obeying the LORD, the covenant promises that were made to Abraham would be established through Isaac.
Sojourn in this land and I will be with you and bless you, for to you and to your descendants I will give all these lands, and I will establish the oath which I swore to your father Abraham. I will multiply your descendants as the stars of heaven, and will give your descendants all these lands; and by your descendants all the nations of the earth shall be blessed; because Abraham obeyed Me and kept My charge, My commandments, My statutes and My laws." Genesis 26:3-5
The nations that occupied Canaan and the territory promised to Abraham that were to passed on as an inheritance to Isaac and his descendants are described in Genesis 15:18-21. The land would span from the Nile, which was the southern boundary of the land of Canaan, to the river Euphrates. Israel at one time had dominion over this expanse during the reigns of David and Solomon. Isaac would inherit the other covenant promises as well. He would be fruitful and the nations of the earth would be blessed because the Messiah would continue through Isaac's lineage.
Abraham received the blessings of God and they were passed down though Isaac because Abraham obeyed (literally, hearkened to) the voice of the LORD. If we and our children are to be blessed then we must not just be aware of God's Word but obey it. Although it would more than 400 years after God cut a covenant with Abraham until the Torah was given on Mt. Sinai to Israel, the LORD declared that Abraham kept God's commandments, statutes and laws.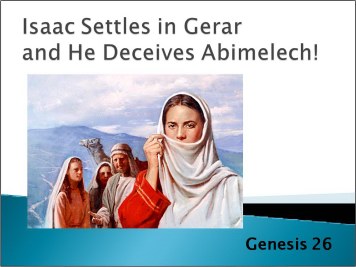 So Isaac lived in Gerar. When the men of the place asked about his wife, he said, "She is my sister," for he was afraid to say, "My wife," thinking, "the men of the place might kill me on account of Rebekah, for she is beautiful." Genesis 26:6-7
Many years before, Abraham moved south from Hebron and also stayed a while in Gerar which is located in the western Negev.
Now Abraham moved on from there into the region of the Negev and lived between Kadesh and Shur. For a while he stayed in Gerar, and there Abraham said of his wife Sarah, "She is my sister." Then Abimelech king of Gerar sent for Sarah and took her. Genesis 20:1-2
Abraham may have been so deeply disturbed by the destruction of Sodom, the stench of the smoldering sulfur, and not knowing what happened to his nephew Lot, that he left Hebron. There in Gerar in the land of the Philistines, Abraham hid the fact that he was married to Sarah as he did when he went down to Egypt. Abram had gone down to Egypt along with his wife Sarai and his nephew Lot during a time of famine in Canaan. Since Sarai was very beautiful, Abram had deceived the Egyptians into believing that Sarai was only his sister when in fact, she was his wife. Sarai was the half-sister of Abram, but a half-truth is still an entire lie.
It came about, when he had been there a long time, that Abimelech king of the Philistines looked out through a window, and saw, and behold, Isaac was caressing his wife Rebekah. Then Abimelech called Isaac and said, "Behold, certainly she is your wife! How then did you say, 'She is my sister'?" And Isaac said to him, "Because I said, 'I might die on account of her.'" Genesis 26:8-9
Frightened concerning his own safety, Isaac succumbs to the temptation to pass off his wife as his sister as twice did his father Abraham. In doing this he was willing to risk Rebekah's purity as the price for his personal protection.
Abimelech said, "What is this you have done to us? One of the people might easily have lain with your wife, and you would have brought guilt upon us." So Abimelech charged all the people, saying, "He who touches this man or his wife shall surely be put to death." Genesis 26:10-11
The similarities between this sin of Isaac and that of his father Abraham are numerous. Both had their faith tested in times of famine. Both sinned in the presence of the ruler of the Philistines and were rebuked by that ruler. Although these were different men, both rulers were named Abimelech. Both Abraham and Isaac had a beautiful wife and feared for their own safety. They both believed that they might be killed so that someone could marry their wife. Both lied by saying that their wife was their sister. Yet, both Abraham and Isaac were blessed and protected by the LORD in spite of their fears and weaknesses because the LORD is a covenant keeping God who is abundant in mercy.
Now Isaac sowed in that land and reaped in the same year a hundredfold. And the Lord blessed him, and the man became rich, and continued to grow richer until he became very wealthy; for he had possessions of flocks and herds and a great household, so that the Philistines envied him. Genesis 26:12-14
The natural elements and principles of Israel's agricultural society were used by Jesus when He spoke in parables in order to reveal the supernatural elements and principles of the Kingdom of God. Isaac, who obeyed the LORD and did not go down to Egypt during a famine in Canaan, is blessed by God and reaps a hundredfold crop and he became rich. In Mark 4:1-9, Jesus uses the parable of a farmer who sowed seed on different types of soils to illustrate how the word of God in received in the hearts' of men.
Still other seed fell on good soil, where it produced a crop–a hundred, sixty or thirty times what was sown. Matthew 13:8
From a single seed that is planted and takes root and entire fruit tree can grow and bear much fruit. Seed must be planted in good soil means that the Word of God can only take root, grow and bear fruit in a softened heart and compliant heart. The hardness of the soil of the heart must be broken by humbling oneself, repenting of sins and forgiving others. The stones of bitterness and selfishness need to be removed. The heart must be watered by the Word of God and softened by the oil of the Spirit. When properly prepared and received, the word of God will bear much fruit.
… a hundred, sixty or thirty times what was sown. Isaac was blessed and reaped a hundred times what was sown. Abraham was one hundred years old when Isaac, the son of the promise was born. Isaac was sixty years old when Jacob the father of the 12 tribes of Israel was born. Joseph, who received a double portion of his father Jacob's inheritance, was thirty years old when entered the service of Pharaoh and became second in command of all of Egypt. These three numbers, a hundred, sixty and thirty were significant in the lives of Abraham, Isaac and Joseph.
Now all the wells which his father's servants had dug in the days of Abraham his father, the Philistines stopped up by filling them with earth. Then Abimelech said to Isaac, "Go away from us, for you are too powerful for us." And Isaac departed from there and camped in the valley of Gerar, and settled there. Genesis 26:15-17
The act of stopping up a person's wells and cutting off their supply of water was often a strategy used in warfare. It would be impossible for flocks and herds to exist without access to water supplies. The Philistines were jealous of Isaac's wealth and that was probably their motivation in committing these acts. Abimelech, both envious and fearful of Isaac, orders him to leave his city.
Then Isaac dug again the wells of water which had been dug in the days of his father Abraham, for the Philistines had stopped them up after the death of Abraham; and he gave them the same names which his father had given them. But when Isaac's servants dug in the valley and found there a well of flowing water, the herdsmen of Gerar quarreled with the herdsmen of Isaac, saying, "The water is ours!" So he named the well Esek, because they contended with him. Then they dug another well, and they quarreled over it too, so he named it Sitnah. Genesis 26:18-21
Isaac met with much opposition in digging wells. The first successful well Isaac's servants had dug was a cause of contention between his herdsmen and the Philistines. It was named Esek, which means, "strife" or "contention."Likewise, there was quarreling over the second well. This well was named Sitnah which is a feminine form of the Hebrew word for Satan (adversary) and means "enmity" or "hatred".
He moved away from there and dug another well, and they did not quarrel over it; so he named it Rehoboth, for he said, "At last the Lord has made room for us, and we will be fruitful in the land." Genesis 26:22
Rehoboth is the English form of a Hebrew word which means literally a "broad place" or "room to live." Abimelech had told Isaac, "Go away from us, for you are too powerful for us." Yet, Isaac did not war against the Philistines when they claimed the first two wells that his father Abraham had originally dug. Instead, Isaac chose to move further and further from the Philistine territory until they ceased to make claim to his well.
Then he went up from there to Beersheba. The Lord appeared to him the same night and said, "I am the God of your father Abraham; do not fear, for I am with you. I will bless you, and multiply your descendants, for the sake of My servant Abraham."
So he built an altar there and called upon the name of the Lord, and pitched his tent there; and there Isaac's servants dug a well. Genesis 26:23-25
From Dan to Beersheba, a distance of about 144 miles became the usual way of designating the whole Promised Land with Beersheba being the southern border. The same night that Isaac arrives in Beersheba, the LORD appears to Isaac to comfort and reassure him. The LORD will keep His covenant promises that were made to Abraham and are now passed down to Isaac.
Although Isaac had be laid upon an altar as a potential sacrifice in Genesis 22, this is the first time mentioned in Scripture that Isaac himself had built an altar and called on the name of Yehovah.
Then Abimelech came to him from Gerar with his adviser Ahuzzath and Phicol the commander of his army. Isaac said to them, "Why have you come to me, since you hate me and have sent me away from you?" They said, "We see plainly that the Lord has been with you; so we said, 'Let there now be an oath between us, even between you and us, and let us make a covenant with you, that you will do us no harm, just as we have not touched you and have done to you nothing but good and have sent you away in peace. You are now the blessed of the Lord.'" Genesis 26:26-29
Isaac speaks the truth without hesitation or apology. He plainly states that Abimelech ordered him to leave the territory of the Philistines out of hatred that was motivated by Abimelech's jealousy.
Abimelech clearly acknowledges that the LORD has been with Isaac and seeks to make a peace agreement with him. Although Abimelech acknowledges the blessings that the LORD was capable of bestowing on Isaac, Abimelech doesn't seek the LORD but a promise from Isaac.
Abimelech is correct in stating to Isaac that we have not touched you. But considering that the Philistine shepherds contended over two wells that Isaac re-dug, Abimelech's claim that the Philistines have done nothing but good to Isaac is simple untrue.
Then he made them a feast, and they ate and drank. In the morning they arose early and exchanged oaths; then Isaac sent them away and they departed from him in peace. Genesis 26: 30-31
According to the mid-eastern custom of hospitality, Isaac had a meal prepared for his guests. Since Isaac was entertaining a king, his advisor and the commander of his army, he had a feast prepared. Early in the morning Isaac's guests arose, exchanged oaths and parted in peace.
When a man's ways please the LORD, he makes even his enemies to be at peace with him. Proverbs 16:7
Now it came about on the same day, that Isaac's servants came in and told him about the well which they had dug, and said to him, "We have found water." So he called it Shibah; therefore the name of the city is Beersheba to this day. Genesis 26:32-33
Shibah means "oath" or "seven". Beersheba means the "well of the oath," or "well of seven." Abraham had entered into a compact with Abimelech and said to him, "Accept these seven lambs from my hand as a witness that I dug this well" (Genesis 21:30). After re-opening it, Isaac gave it the same name.
When Esau was forty years old he married Judith the daughter of Beeri the Hittite, and Basemath the daughter of Elon the Hittite; and they brought grief to Isaac and Rebekah. Genesis 26:34-35
When Esau was forty years old, the same age that his father Isaac had married his mother Rebekah , Esau married two Canaanite women. Esau's grandfather Abraham had been insistent that his servant not get a wife for Isaac from among the Canaanites but from his own relatives. Isaac's favorite but wayward son brought no less than two idolatrous wives among them—an additional proof that Esau neither desired the blessing nor dreaded the curse of God. Esau, who despised his birthright, also intentionally dishonored his grandfather and father's wishes not to intermarry with idolaters.